A Glossary of Jewelerspeak
Vol. 3.0

This Glossary is intended to help explain some of the odd words and techniques encountered when venturing into the lands of the metalsmith. This list is partial. If you see a term somewhere that you don't understand, tell me and I'll add it in.

ABC
Alloy:
A mi
xture of two (or more) metals. Always done when they're molten, and usually done to improve the working characteristics of the metal, or to cause some other change in the properties of the final metal.

Anneal:
To heat the subject metal above its re-crystallization temperature, so that the stresses in the metal (from cold working or other cause) are relaxed, and it can then continue to be worked without fracturing. (Imagine vallium for metal...) (For most jewelry metals, the target temperature is somewhere around 1000 F°)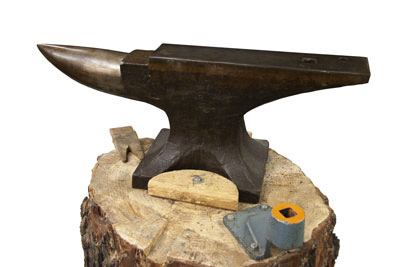 Anvil:
Large hunk of steel, used for forming metal, and attempting to crush Road-Runners.
(yes, there really
was
an ACME ANVIL CO. ....)

Ball Peen Hammer:
Generically, a term for any hammer that has one (or two) faces with a spherical striking surface. These do not have to be fully ball shaped, they can simply be a spherical surface of any radius. Chasing hammers have fully ball shaped peen faces of very small radius, but equally, sledgehammers with very slightly domed faces are also -
technically
- ball peens.

Bullstick(er) or Ball Stick:
British term for a specially set up oval graver, used to carve out stone seats. Spellings vary from book to book, but it
sounds
like they're saying "Bull Stick".

Bobbing compound:
Very coarse buffing compound. As coarse or coarser than Tripoli. Dull mustard yellow in color.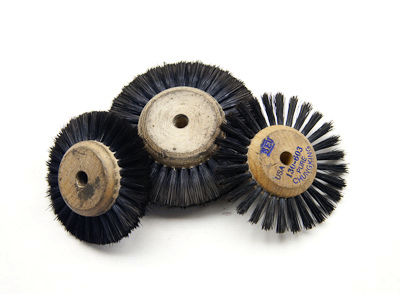 Bristle Wheels:
Bristle buffs. Hardwood or plastic cores with natural or synthetic bristles. (Traditionally boar bristles). Used for buffing. Run at slow speeds, they're excellent for getting into small details. Run at higher speeds, they can remove metal quite quickly. The only issue is getting them to retain buffing compound. The traditional approach is to apply a little oil of wintergreen or very light machine oil to the bristles before applying the compound. This will cause the compound to dissolve slightly, and form a slurry on the bristles. It'll also cause a horrific mess all over the buffer. (Both the machine, and the person doing the buffing.) Oil of Wintergreen also causes blinding headaches, at least in your humble author. The oil trick is not recommended.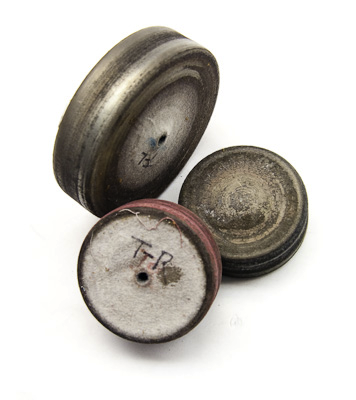 Buff, Felt:
Hard felt buffs. These don't flex to conform to the surface of the piece. They're very good for polishing hard edges and geometric surfaces.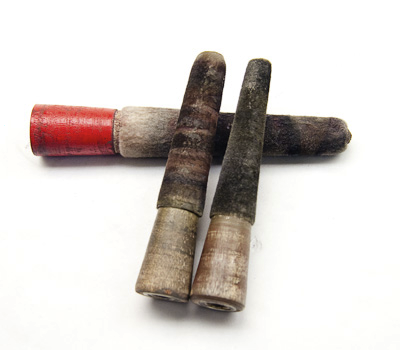 Buff, felt inside ring mandrels:
Hard felt buffs on a wooden spike. Used for polishing the insides of rings. They sometimes come with a small felt buff on the 'big' end of the mandrel, used for polishing the outside of a ring, or other object.

Buffing:
jewelers term for polishing with powered equipment.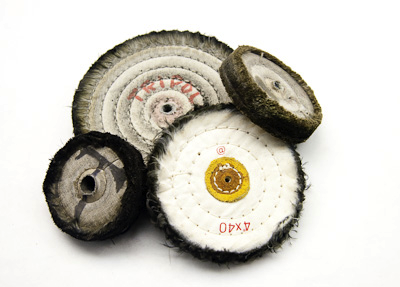 Buffing Wheel:
Round sewn fabric wheel attached to, and rotated at great speed by a "buffing machine" . The wheel is periodically coated with abrasive polish and then applied to the jewelry so that the abrasive is quickly scrubbed over the surface of the work by the action of the revolving wheel. In British usage, they're sometimes referred to as mops.
Note the buffs in the picture are labeled as to what compound they're for. Once loaded with a given compound, any particular buff becomes dedicated to that compound for life.

Burr:
General term for any small cutting tool used in a flex-shaft or dremel tool, other than a drill bit. Typically applied to steel cutting wheels of various profiles, but can be used generically for all non-drill flex shaft tools. Flex shaft tools other than steel cutters, such as sanding disks, abrasive wheels, & etc have their own names, which tend to be used when talk becomes more specific.

Button:
Casting term. Used to describe the solid slug of metal left behind at the base of a cast sprue system. The button is 'extra' metal cast into a mold. It performs several functions. The primary function is to provide a
reservoir
of molten metal that the sprues can draw from as they cool and shrink. (The sprues need to be fed molten metal because they're feeding molten metal into the actual piece as
it
cools and shrinks. ) The ultimate goal is to prevent shrinkage porosity by making sure that the sprues stay molten longer than the piece itself, and that the button stays molten longer than the sprues. The button is also insurance. If the weight of the wax was calculated incorrectly, or some other mistake was made, it's a certain percentage (usually 20%) of extra metal 'just in case'. The button is melted down and reused, so there is no long-term loss. The mass of the metal for the button also adds a little bit of extra force to the end of the molten metal stream during the casting process, helping to insure the mold fills completely. The button forms in the large hollow area left behind in the investment by the central 'hill' on the sprue-base, once the investment has hardened, and the sprue-base is removed. This hollow button area forms a funnel to guide the molten metal stream into the sprue openings.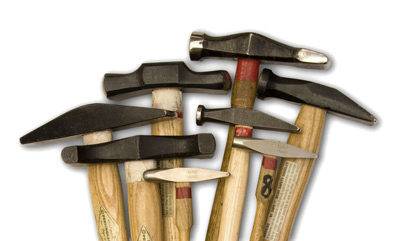 Cross Peen Hammer:
Generically, a hammer with one (or two) striking faces that are wedge shaped, with the primary axis of the wedge at right angles to (across) the handle. The wedge can be either soft and rounded, or razor sharp, depending on the intended purpose. It can also curve across its width (convex) depending on purpose. In traditional raising and forging, the crosspeen face is used to move the metal in a direction parallel to the axis of the hammer handle. (The metal spreads out in a direction perpendicular to the axis of the peen face.) The amount of movement is dependent on how sharp the crosspeen edge is.
The hammers in the picture with wide, soft crosspeens are used in raising, for smoothing out the deep dents left from primary raising with sharper crosspeens. Sharper hammers move the metal faster, but leave nasty dents. The sequence is to use sharp hammers for the initial few passes, and then to switch out to hammers with wider and wider faces as the final shape is refined. Sharp hammers can also tear through the metal if used carelessly.
DEF
Fire scale / Fire stain:
A particular problem of sterling silver. Silver does not really oxidize (combine with oxygen), however the copper present in sterling silver does oxidize, and thus turns black. The pickle will dissolve the copper oxides present at the surface of the metal, thus leaving an essentially pure silver surface. Unfortunately, copper oxides can form fairly deep into the metal (two or three thousandths of an inch) due to oxygen migration during the heating for annealing or soldering. The longer the piece is held at heat, the worse the problem. The pickle cannot get at these oxides to dissolve them, so a black or purple stain is sometimes observed on wrought sterling.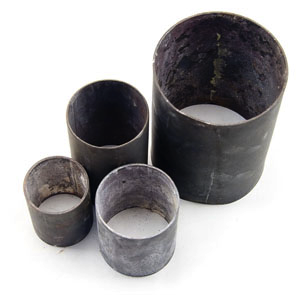 Flask:
short lengths of steel tube that form the side walls of an invested mold for casting. Sometimes also called a 'can'.

Flex Shaft Machine:
(Or Foredom Machine) (British usage: Pendant Drill) A nearly indispensable tool, consisting of a motor unit, usually suspended above the worker in some fashion, connected to a hand-piece by a flexible bronze cable running in a rubber sheath. This transmits the motor's power down to the hand-piece, allowing the hand-piece to be small and light. Usually, there is a foot pedal to control the speed of the unit. There are a variety of hand-pieces, motors and foot pedals, as well as a nearly limitless supply of attachments and gadgets. The most common hand-piece is the #30, which is a small drill chuck. The major manufacturer for many years was Foredom Inc., out of Bethel Pa., which is why they're sometimes referred to as "Foredom machines" in the States. There are other manufacturers now, but most accessories are designed to match the layout and attachment points of the original Foredom units, allowing a wide variety of available add-ons.

Flux:
Some sort of barrier, usually borax paste, used to prevent certain areas of metal from oxidizing during heating. Most fluxes will also attack—and to a limited extent—dissolve oxides already present on the metal, to insure a good solder bond with the subject metal.

Flux glass:
The fused residue of borax flux is a glassy stuff that needs to be removed from your piece somehow. Pickle is usually the right answer.

Forge:
general term for plastic deformation of the metal in such a way that its cross section is altered. Also a term for a blacksmith's heat source.

Frazier:
general term for flex shaft tools (See Burr). Typically used by German and German trained jewelers.
GHI
Graver
(short for Engraving Tool. Most of them are called Scorpers in British usage.) Printmakers also used to use them, and called them bruins.
A short section of steel rod sharpened at the end, and usually with a mushroom shaped handle. Used to engrave lines and letters, and also to help seat stones.
Americans refer to all tools of this type/shape as gravers or engraving tools.
The British refer only to those actually used for engraving linear designs as gravers or engraving tools. They refer to the other shapes, used for stone setting as Scorpers. This can get a little fuzzy, as the distinction is based on the use of the tool, and many of the tools can serve either purpose. Typically, the diamond or lozenge gravers are referred to as gravers, while the flat, round, bull stick (oval) and spit stick (ongilette) shapes are scorpers.

Graystar:
a very coarse buffing compound intended for harder metals. Roughly comparable to Tripoli. Dull grey in color.

Investment:
From the verb 'to surround'. A white ceramic powder, that is mixed with water and used to form the mold body in lost wax casting. Investment is a mixture that looks and behaves like plaster.
Do not be fooled.
It is most emphatically
not
plaster. It is a ceramic that must be fired like clay to perform properly.

Investing:
the act of mixing/pouring the investment mixture into a prepared flask.
JKL
Kiln:
a container for heat. Typically refers to a large-ish box made of firebricks that has an internal space that can be heated, either via gas flame or electric coils. Used mostly by enamelists, or as a burnout oven for casting. Typically, a kiln is dedicated to one or the other purpose. It is possible to do both with the same kiln (at different times) but the combustion residue from burnouts may adversely effect some enamels. Can also be used to fire PMC, or (with excellent temperature control) for heat treating steel.
MNO
Oxides:
As a general chemical term, a compound that contains oxygen and another element. E.g. hydrogen with oxygen added becomes dihydrogen oxide, or H
2
O (water) As a metalsmithing term, a discoloration on the metal's surface, usually black, caused by heating the metal in open air. There are several different oxides that copper can form, as also with nickel silver and brass. In most jewelry metals, it's usually the copper present in the alloy that's doing the oxidizing.
PQR
Peen
(also Pean, Pien): any end of a hammer that's meant to hit the metal. There are three main types: cross-peen, straight-peen, and ball-peen. Cross-peen are hammers where the striking surface of the hammer lies in a thin band perpendicular to the handle. These are by far the most common. Straight-peen hammers are similar, save that their striking surface lies parallel to the handle, much like a hatchet. Ball peen hammers have rounded striking surfaces, that are rounded like balls of various size.

Pendant Drill:
British term for a flexible cable drill, or foredom machine. See
Flex Shaft Machine.

Pickle:
An acid solution used to dissolve the fire scale and flux glass left after soldering.
In America, it's usually "Sparex #2" which is a sodium Bisulphate compound. Elsewhere, it's usually a 10% solution of sulfuric acid in water.

Planish/planished/planishing
(hammer) : The final process in raising, where the lumps and hammer marks from the raising are beaten out to leave a finely faceted surface. This surface of interlocking facets is said to be planished, and the specialized hammer that does it is called a planishing hammer. Planishing hammers should be very finely polished, as every mark and scratch on their faces will be faithfully repeated in the surface of the work, every time that hammer face impacts the work. (2-3000+) (if you don't want to polish that scratch out of your silver five thousand times, polish it out of the hammer, once.)

Raising:
Sheet metal technique for hammering a sheet of metal
over
a form until the sheet has "risen" into the desired volume.

Rivet:
a piece of metal, usually wire, that has been passed through a hole in two (or more) sheets of metal, and then upset on the ends so that it cannot pass back through the holes, thus locking the pieces of metal together. A minimum of 2 rivets is required to insure that there will be no motion in the riveted pieces. However, rivets can also be used to create rotating or sliding joints. This is one of their great strengths.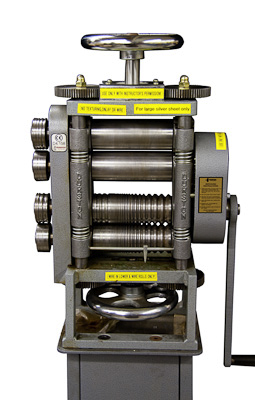 Rolling Mill:
A large piece of equipment that uses one or more pairs of opposed rolls to crush sheet metal thinner. In essence, an overgrown pasta roller. It allows the goldsmith to start with thick sheet metal, or a raw ingot, and roll it down into sheet metal of any desired thickness, all the way down to gold leaf. Some mills, such as the one illustrated, also have a second set of rolls for producing semi-square rod. These are most useful for breaking raw ingots down into bars to be drawn into wire. Some mills also have easily changed 'outboard' rolls as this mill does. The outboard rolls usually have dies for half-round wire. They are available in a variety of sizes, shapes, and patterns that can replace the standard half round rolls.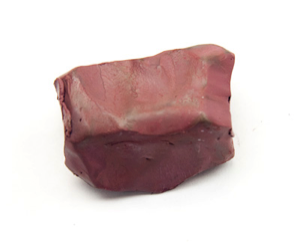 Rouge
(red/white/yellow/black/green): A very fine polishing compound. The final step in polishing precious metals, and not always used. Red rouge is traditionally the ultimate step in surface refinement, but silver won't hold on to that polish for long. Neither will brass or copper. The other colors are equally fine, but impart minutely different surfaces, or are formulated to work on particular metals.
STUV
Scorper:
British term for a specialized subset of what Americans would refer to as engraving tools. Scorpers are the ones used for stonesetting, as opposed to the tools used for engraving. In the British usage, those would be the Spit Stick (Ongilette), Bull Stick (Oval), Flat & Round. Engraving tools would be those such as the lozenge & diamond.

Sinking:
Sheet metal technique for hammering a sheet of metal
into
a form until it has "sunk" down to the desired volume. Not as versatile as raising, although faster. Cannot achieve the same high narrow forms that are possible with raising. About the best it can do is a cereal bowl or similar form.

Spitstick or Splitstick:
British term for an Ongilette graver. Used in stone setting. Spellings vary from book to book, but it
sounds
like they're saying "spit stick".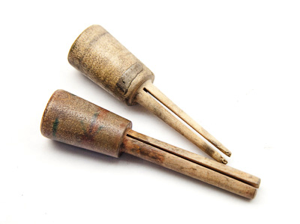 Split Mandrel:
A wooden mandrel designed to fit onto the tapered spindle of a buffing machine. The mandrel has a slot (split) up the center that is designed to trap a strip of sandpaper. As the mandrel spins, the sandpaper winds onto the mandrel, and forms a quickly changed sanding drum. Usually used for the insides of rings. There are also smaller ones designed to fit into the chuck of a flex-shaft machine.

Sprue:
Can mean one of several things, depending on context. In wax work, it refers to the soft wax rods that are attached to the wax model. In the casting process, it refers to the tube or pipe left behind in the investment once the wax rod has melted away. This sprue-pipe serves first as a drain to allow melting wax to drain out of the mold cavity, and then as a pipeline to guide molten metal into the mold cavity during the casting process itself. Finally, once the casting is done, 'sprue' refers to the solid metal rods left attached to the cast piece after casting. These are typically cut off and recycled, or incorporated into the design.

Spruing:
the act of attaching the sprues to the wax model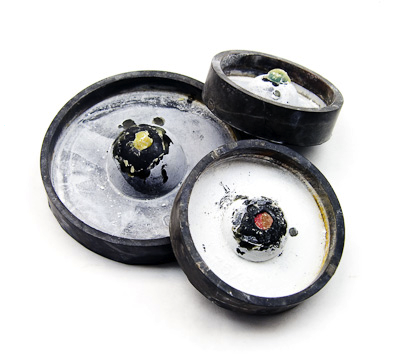 Sprue base:
Black rubber disk that fits onto the bottom of the steel flask ring. Has a 'hill' in the center that the sprues attach to during spruing. The base then forms the bottom of the flask during investing, and holds the liquid investment within the flask until it sets. After the investment sets, the flask base is removed and reused. The 'hill' forms a funnel in the investment that guides the molten metal into the sprue channels.

Stake:
A special purpose anvil, generally designed to fit into a vise or stake holder of some variety. Used as a specialized form to shape metal over. Mostly used in raising of hollowware. Usually highly polished.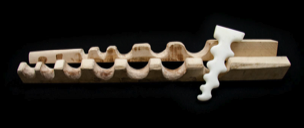 Stake, Bay:
A specialized type of stake used for anticlastic forming. Usually made from hardwood such as Rock Maple, or hard plastic such as Delrin, they are long bars with a series of rounded bays carved out of them. Usually the bays are sections of a circle, and symmetrical, but this is not required. They're essentially single-sided sinusoidal stakes. In larger sizes, it's easier for the average metalsmith to make wooden or plastic bay stakes, rather than steel sinusoidal stakes, which require very expensive materials in the larger sizes.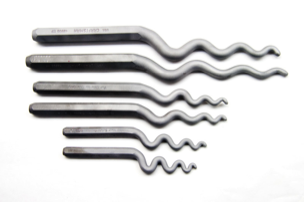 Stake, Sinusoidal:
A "sinuous" stake, used for anticlastic shellforming. Typically made out of steel drift punches, or other tapered steel bars.

Silver Solder:
A series of very high silver content alloys specially designed to act as a sort of metallic glue. In non-jewelry terminology, these are actually hard brazes, but jeweler's trade usage refers to them as solders.
They work by having a lower melting point than the subject metal, so that the solder becomes liquid while the subject metal is still solid. Although the subject metal is still solid at this point, it is very hot, and the crystal structure of the metal has already opened up slightly such that there are minute crevices between adjoining crystals. The silver solder flows into these minute crevices and forms a localized alloy, thus locking itself into the subject metal. (The ultimate super-glue.) If properly designed and performed, a silver soldered joint is as strong as the metal surrounding it. Silver solder is severely thermotropic, meaning that it likes heat, and will actively seek it when molten. Silver solder will not flow or bond properly on an oxide. If your solder is balling and won't run, try throwing the piece in the pickle for a while. (after it's cooled Solder commonly comes in 3 grades, Hard, Medium and Easy. Hard is the highest melting , with Easy being the lowest. There are two more extra grades that are sometimes useful: IT solder, which is a super high melting point solder, usually used by enamelists, and Easy Flow, which is a super low solder. It's not as strong as the others, but is handy for repairs, and a good color match for bronze.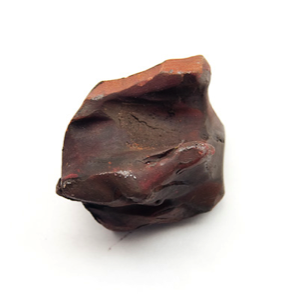 Tripoli:
Fairly coarse buffing compound. Traditionally used directly after surface prep with files and sandpaper.

Upset:
Blacksmithing term. To forge the end of a piece of wire or rod such that its length is lessened, while its diameter is increased. (make it shorter and fatter.)
WXYZ
White Diamond:
a buffing compound not quite as coarse as Tripoli, but not as fine as rouge. Imparts a good finish, and is probably the place to stop, at least for sterling. Mottled greyish white in appearance.

Zam:
fine buffing compound, pea green in appearance. Slightly coarser than rouge, but finer than white diamond. Makes a good final finish on sterling, and does a good job on soft stones like Turquoise.